Champions League Final brought waves of illegal sales of fake tickets at resale. With Alise Devices, that could have been avoided
Atlético de Madrid and Real Madrid have already made history last 24 May, in becoming the first two sides from the same city to contest a European final. The Final Champions League is the biggest European football competition, where both teams were facing each other into Lisbon's Luz stadium crowded with more than 60,000 enthusiasts.
A unique event with limited capacity in which fans are willing to pay astronomical prices for experiencing first hand what it is making history: these are the three characteristics that turn an event into the breeding grounds for fraudsters.
The exponential growths of e-commerce and advertisement websites together with the technical increasing sophistication of counterfeiters have propitiated all kind of scams.
One in three online advertisements related with the Champions League final came from a football lover. Every type of offers were posted, including a BMW 320 in exchange for tickets.
Both on particular advertising websites and intermediary companies such as ticketbis.com and Tengoentradas.com, prices of seats surpassed €20,000.  An extremely lucrative business taking into account the  UEFA's official tickets price were from €70 to €390.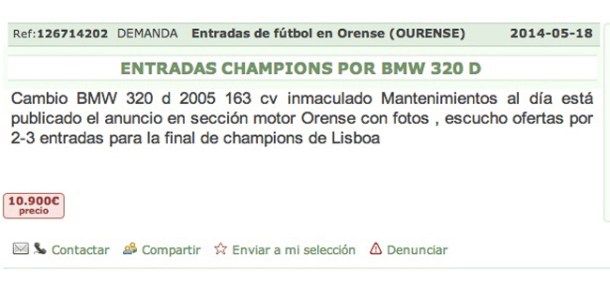 Those who wanted to protect themselves against the possible penal consequences of reselling tickets, offered any kind of product with free tickets, such as: "Two Ipad cases for €3,500 each one with two free tickets for the Champions League final".
However, beyond this illegal practice of tickets reselling, end-consumers are extremely exposed to all forms of fraud. Most of these announced tickets actually do not exist.
Some of the world's leading cyber-security leading experts (Chema Alonso) are conscious that the majority of the online end-users are not computer experts. So the Penny's user profile is the most exposed to cyber crime. They have therefore developed user-friendly apps and tools in order to offer protection to all user profiles.
But in the case of material goods such as the Champions League Final tickets, how can consumer be sure of the authenticity of the ticket he is about to buy?
Fans woke up this morning in Lisbon with hangover headache and the news of the interception by the Public Security Police (PSP) of over 50 enthusiasts of both teams carrying fake tickets.
There have been various incidents in the past related with the counterfeiting of official event tickets, including the use of the original paper previously stolen. According to the statements made by the Glasgow Chief Inspector in 2009 "we were dealing with high quality counterfeit tickets completely similar to the original ones", on the occasion of the UEFA Cup Final held in Sevilla.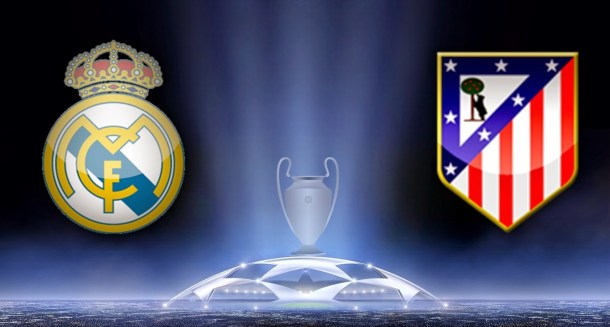 In spite of the new track and trace technologies allowing contactless reading the reality is that end-consumers are unprotected against fake tickets. Even if thanks to new technologies an event of such a significant magnitude can be managed in much more effective way than some decades ago the varied profile of buyers are exposed more than ever.
Taking a look at the visual security features present in this kind of documents, in most cases the authenticity of the ticket should be certified by a hologram as regards to end-consumers. All the rest of security solutions such as code numbers, barcodes, QR codes and covert solutions are addressed to expert inspectors in order to protect the event organizers.
Holograms became the most efficient and unique technology since its inception in the 70's until over a decade ago. More than 30 years reign that finished with the maturity of this industry and the appearance of cheap and high quality copies from China.
Although the hologram's technology is becoming more and more sophisticated (multilayer and volume holograms, doped with nano-particles…) these features are moving further away from end-consumers to become forensic evidence in intellectual property trials.
To this absence of easy to check solutions should be added the limited information campaigns. The consumer's education work is a key pillar to ensure the effectiveness of any anti-counterfeiting solution.
Even though the current scenery seems to be discouraging for consumers, there is a unique and effective solution already available commercially provided by a Wayra Spain start-up named Alise Devices.

It is a revolutionary technology never employed before in the security sector, international patent protected and developed by a five PhDs team in a highly equipped R&D center during more than 4 years.
Carlos Carrasco who is the CTO of the company explains the solution: 'What seems to be a simple plastic is actually a smart-material. When you expose this film against the light emitted by any display, very clearly distinguishable images appear. These images are invisible under daylight. The images recorded on each side are different and there is no interference between images in the checking process. It is magic!'
According to the CEO of Alise Devices, Beatriz Cerrolaza, this technology includes all the necessary characteristics to be an effective anti-counterfeiting solution addressed to protect untrained inspectors: 'It is really simple to verify, you only need an every day device such as an smartphone or a Tablet in order to check it. When we show it to children the can pass hours with the magic film in front of any display they find. And it is also unforgeable.'
The complex multi-step manufacturing process is kept under industrial secret. Consisting of a combination of multiple techniques commercially unavailable to counterfeiters, it is a really hard to imitate feature. This technology was developed in a public R&D center with clean room facilities and advanced equipment.
'Besides being most effective solution in the market, it has a great aesthetical potential inviting consumers to pay attention. We can adapt our solution to any Brand Image or product making it a powerful communication and marketing tool' explains Beatriz Cerrolaza.
Alise Devices is already validating the integration tests in different pilots projects with national and international brands and their appearance in the market is planned to the end of this year.
Perhaps with this new solution, things will never be like they were for those who traveled to the Portuguese Capital remaining outside the stadium for having bought an impossible to spot fake ticket.