The Ekocycle Cube 3D printer is designed to work with filaments made partially from recycled plastic bottles.
Plastic bottles represent an important part of the millions and millions of tonnes of trash that we generate every day. Households are constantly discarding these empty containers, in enormous quantities. The Ekocycle project, promoted by the US singer Will.i.am and Coca-Cola, focuses on this problem and has come up with a solution to do something useful with this material that normally ends up in the trash bin.
To provide an imaginative solution, Ekocycle has joined forces with 3D Systems, which specializes in 3D printing, to create a machine that can make use of the plastic used to make these bottles. The result is the Ekocycle Cube, a 3D printer that uses filaments made up partly of recycled material from these containers.
The project has designed a special type of filament that has been dubbed rPET (the 'r' from recycled, and the other letters referring to the type of plastic), which provides flexibility and durability to objects produced with this material. Each cartridge contains three recycled plastic bottles.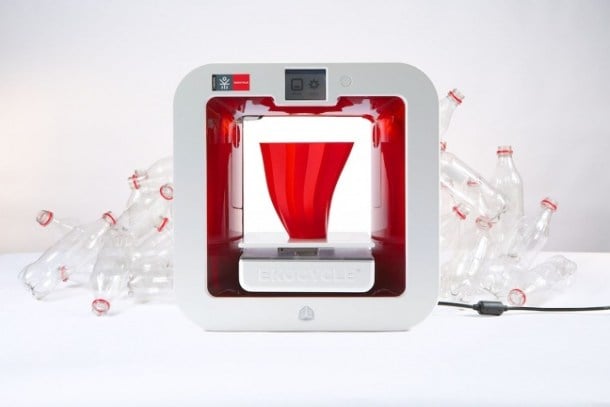 The Ekocycle Cube is specifically designed to function with these cartridges. Its simple structure doesn't allow the creation of large masterpieces, but small decorative objects, your typical mobile case, or miscellaneous objects like bracelets are easy to make with it. The machine will go on sale in the second half of this year, at a price of 1,200 dollars.
The recycling of plastic bottles that is encouraged by Ekocycle Cube is, more than anything, a way to draw attention to the problem of managing waste and how household recycling can help lighten the load on the planet – in addition to helping Coca-Cola's brand image, of course. Scientists at the Michigan Technological University already attacked the problem with the focus on 3D printing and designed a machine that will use plastic-containing waste as the raw material.
3D printers are becoming more and more versatile. Some work with metal and other materials other than the standard ABS and PLA plastics, and machines are even being built that are able to synthesize artificial human tissue. However, there's not much news about initiatives for machines that use recycled materials.
Image: EJP Photo