A surgical team at a hospital in Kentucky in the United States used a 3D-printed heart to study the defects in the organ before operating.
At the Kosair Children's Hospital in Louisville, Kentucky, the surgical team of doctor Erie Austin recently carried out a complex operation that was prepared with a significant amount of help by a 3D MakerBot printer. The images from the medical scanners were used to create a replica of the heart of the patient, a 14-month old baby, using 3D printing. Doctors were then able to use the model to detect certain defects that they would have otherwise been undetectable until after the operation was underway.
Roland Lian Cung Bawi is the name of the baby whose heart had several defects from birth that required surgery. The medical scans and tests couldn't give an exact idea of the organ's condition, or at least not exact enough to carry out such a delicate operation. In order to get a more precise appreciation of the problems facing the team, surgeon Erie Austin contacted the engineering department of Louisville University.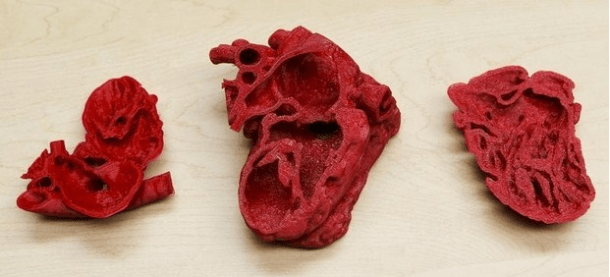 There, they used the images from the scanners and all of the available visual information to create a 3D-printed model of the heart. Once the design was ready, the MakerBot printer took care of the rest, although the dimensions of the heart had to be increased in order to facilitate examination by the doctors. The surgeons needed as much information – and with the greatest degree of precision – as possible, because time was of the essence due to the complexity of the operation.
Roland's heart had a hole in it, and both the aorta and pulmonary artery were deformed. To do the operation and correct these defects, the heart had to be stopped, which gives an idea of how valuable time was. Without the 3D-printed heart, the surgeons would have known much less about what they were going to find when they opened up the patient.
Thanks to the 3D-printed heart, surgeons were able to better prepare for the surgery and avoid the need for further surgery on the baby. The baby is expected to make a full recovery. The cost of the 3D printing of the organ was around 600 dollars, a pittance when compared with the benefits.
Image:  Army Medicine / Extreme Tech