The app uses the possibilities offered by mobile connectivity to offer help to children and adolescents that is adapted to these new circumstances
It's more and more common to see young kids using mobile phones, tablets, and computers, and amazing their parents, who sometimes have to turn to their kids for help to solve a technical problem. The age at which kids are starting to use these devices and the Internet is getting younger all the time, with no signs of a change in the trend. Children of 11 years old and upwards use their own smartphones on a regular basis and, every day, they are joined by 9 and 10 year-old users, who find many different types of entertainment and ways to interact with each other on these devices.
But alongside this, mobile connectivity for children also brings with it problems, because of lack of knowledge and inappropriate use of the technology; every day, many new cases of cyber-bullying and other conflictive situations are reported on the Internet. According to the study «Minors and Mobile Connectivity in Spain: Tablets and Smartphones" prepared by Protégeles ("Protect Them", in Spanish) (Centre for Security for Minors on the Internet):
5.4% of Spanish children between the ages of 11 and 14 have been the victim of some type of harassment via their mobile phones (and 8.4% of 13 and 14 year-olds).

9% of children in this age range have received images with sexual content; 11% have received messages or calls from strangers.

Just 30% of children between the ages of 11 and 14 with mobiles say that they turn them off when they go to sleep.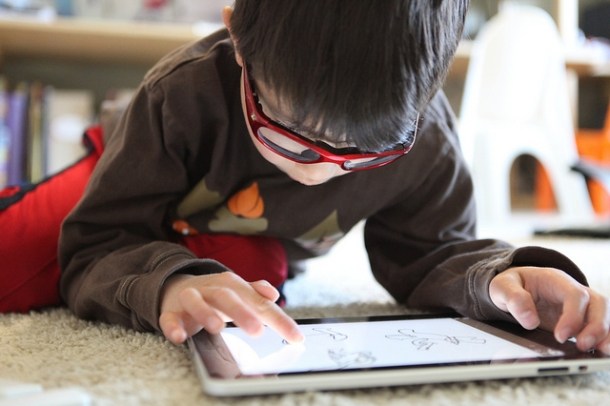 In order to educate both children and adults, Protégeles, in collaboration with the principal telecommunications operators in Spain, has developed a new "anti-harassment" application called Protégete (Protect Yourself). Minors will be able to use it to:
Anonymously report illegal or harmful content that they find on the Internet.
Ask for help in situations of cyber-bullying on the Internet , sexual harassment (grooming), identity theft on social networks and other conflictive situations that they may find themselves in or be aware of.
Take a test to determine the level of basic knowledge they should have regarding security and responsible use of the Internet and ICTs. It's just as important for children to be able to react when they become victims in conflictive situations as it is for them to be aware of their own responsibility if they themselves are the cause of the problem.
The application is free and is available on Google Play and in the Apple Store. It's important to note that no personal information is requested, and the application doesn't access information, contacts, or images that the minors may have stored on their smartphones, and neither does it include advertising. Once installed, when minors use it, it puts them in direct contact with the lawyers, psychologists, and security experts at the Protégeles Internet Security Centre.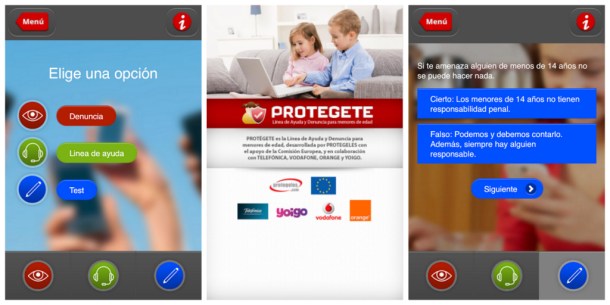 On Wednesday, the application was presented to a group of boys and girls aged between 12 and 15, who said that it was "intuitive and easy to use, and that it didn't matter how old you were to be able to use it".
Other young users said that they learned a lot from the test. «I wasn't clear on what cyberbullying was, or the responsibility that a 14 year-old minor has, or whether you could ask for help at school». The young people also appreciated that their input was being taken into account: "we like that they have considered our opinions. Normally they don't ask us anything, and we don't want to be just observers".
The leading mobile phone operators, Telefónica, Vodafone, Orange and Yoigo, have worked together on this initiative, unifying objectives and efforts to make the same application available to all of their users, regardless of the portal that they connect to or the company with which the user has contracted Internet access.