The new digital formats provide the perfect framework for introducing kids to programming languages by playing games
Following the success of its website, Tynker has launched an educational iPad app to complement its website, in order to introduce children into the world of programming. It uses a series of games to exercise the skills needed to teach children how to program by familiarising them with the current digital formats.
The application is based on an interactive interface that allows children to complete each one of the puzzles, arranged by levels of difficulty and age ranges, solving sequences of commands based on the popular Scratch programming language, which was developed by MIT and is taught at the sessions of the Talentum Schools.
The free download of the application consists of 20 initial puzzles in order of difficulty, which can be supplemented by a «freemium» option that includes two additional collections that are more complex, such as Lost in Space or Sketch Racer, for a price of 1.49 pounds each.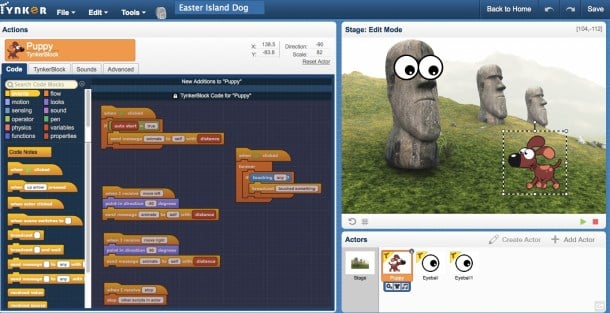 According to its creators, the game stimulates children's spatial vision and encourages algorithmic thinking. Learning how to recognise patterns and focus on larger problems by breaking them down into smaller ones that are easier to solve helps kids to reason logically. From the educational point of view, the puzzles are designed to work on basic programming concepts, such as sequencing, loops, unconditional logic or debugging programs.
Since April of last year when Tynker launched its children's programming website, its platform for introduction to programming has been implemented in more than 8,000 US schools, giving service to more than 6 million students. Based on the idea that the iPad represents the first contact that most kids have with the Internet and the world of technology, it's not surprising that many companies like Tynker have chosen this format to launch their applications to teach children how to program.
This application and others, such as Hopscotch: Coding for Kids or Kodable, have appeared at a key moment for the British educational system, which is showing growing interest in promoting knowledge of coding and programming at younger and younger ages.
The project is backed by an investment of 3.25 million dollars as the first part of a series of future technology companies aimed at creating applications for kids. In the hopes of capitalising the investment, they are taking advantage of the current interest of parents and the educational system to further the democratisation of programming languages through the classroom.
Image | Tynker