European Myths debunked: start-up accelerator programmes have increased by almost 400% in the top 10 countries on the continent.
We are often told that Europe is lagging behind in innovation and technology. The truth is some European icons have fallen – Nokia is an example. In purely monetary terms, we do not have any first division start-ups (or very few) nor many Nasdaq-listed companies. But there is another way of looking at things, recognizing the dynamism shown by the growing entrepreneurial and start-up ecosystem in Europe. In mid-2013 we carried out an extensive study in the top 10 European countries, drafting a complete map (the most comprehensive to date) of all accelerators and incubators out there. The results invite us to question some myths about Europe and offer up some surprises.
First myth
Europe is a zombie continent when it comes to entrepreneurship, innovation and new technologies. The reality is quite the opposite and very surprising. The study shows that, as of 2013, Europe has over 260 start-up accelerators. That places the continent ahead of the United States –which has about 200– by 30%, according to major studies. This means that, in per capita terms, Europe has as many or perhaps more accelerators and incubators than the US.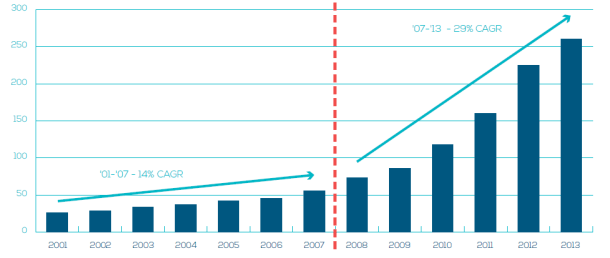 Second myth
The crisis has wiped us off the map. Also quite the opposite: Europe is showing increasing vitality in entrepreneurship. According to our study, we are witnessing an anti-cyclical boom in entrepreneurship, despite the adverse economic environment. Since the beginning of the crisis in 2008, start-up accelerator programmes have increased by almost 400% in the top 10 countries on the continent. This means that, if before the crisis the proliferation of accelerators produced an inter-annual growth rate of 14%, since 2008 this ratio has doubled to 29%.
The message is clear: The crisis has helped to increase the rate of proliferation and consolidation of Europe's entrepreneurial ecosystem. We are witnessing a great boom in start-ups across the continent, and it's not just happening in London or Berlin. In Spain (Madrid and Barcelona), in Sweden and Finland (Stockholm and Helsinki) we are seeing the proliferation of initiatives. At one end are France and the UK, with the bulk of their accelerators each concentrated in a single city (Paris and London) and, at the other extreme, countries like Sweden and Spain, where accelerators are spread beyond the two main cities – Gothenburg and Stockholm in the case of Sweden, Madrid and Barcelona for Spain.
Third myth
In terms of technological entrepreneurship, the countries affected by the crisis have collapsed. The reality here is also quite the opposite. In Ireland and Spain, countries hit by the financial and economic tsunami, the number of initiatives have sky-rocketed. Particularly in Spain, technological entrepreneurship rates are rebounding to levels of 10% of the total ventures from levels that were twice as low before the crisis. The case of Spain is particularly striking and shows that the vitality of its entrepreneurial ecosystem is even greater than those of other European countries less affected by the crisis: only in Spain have accelerator programmes grown in the past five years by 660%, from five accelerators in 2008 to 38 in 2013.
Obviously, quantity is not quality. But it is striking that, after the UK (the European record holder with 50 start-up accelerators, almost all concentrated in London), Spain is now leading (with 38), ahead of even France and Germany.
These are some of the myths that the study has debunked most surprisingly. Europe has a strong, diverse entrepreneurial ecosystem, with great potential for development. The obvious challenge is to consolidate these initiatives so they may thrive and spread. There are many more pieces that need adjusting; although the number of venture capital funds of considerable size (over 100 million euros) remains low, especially in continental Europe, some large teams are also being created. Likewise, more and more entrepreneurs are seeking international funding beyond the borders of their own country, even from the United States.
Over the past five years, particularly in Spain, many great strides in the right direction have been made. That said, there are still some myths to debunk. We are not Palo Alto nor Tel Aviv. We will invent our own model. In any case, this is not (just) a continent of museums and restaurants (though we have those, as well, and they are among the world's best), nor of old cobblestones and beautiful beaches (though we also know how to enjoy these). This is not a zombie continent.