A team of South Korean researchers have created graphene batteries can be recharged in 16 seconds and throw a longer than usual life.
Research into energy storage systems continues to advance towards more convenient solutions. One of the latest experiments has been carried out at the Gwangju Institute for Science and Technology, in South Korea, and it proposes upgrading  electrodes, one of the basic components for generating energy, with graphene. After completing the corresponding tests, the scientists found that these graphene batteries for cars offer the same capacity as lithium, with the added benefit that they take just 16 seconds to charge.
As amazing as this may sound, it's not the first time that we've heard about energy storage systems capable of recharging in just a few seconds. The same was true of a brilliant invention by a teenager, a supercapacitor that charged a mobile phone battery in 20 seconds. You might be thinking that in this case, size does matter, since obviously it doesn't take the same resources to power a smartphone as it does to power a motorised vehicle.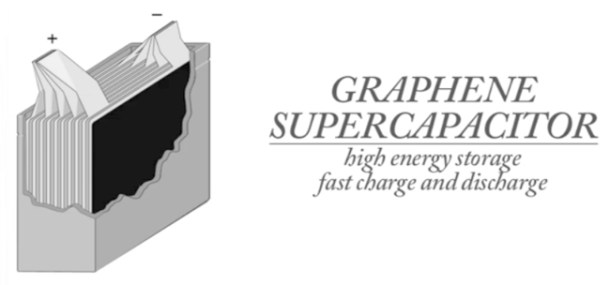 But research ion everything. The Swiss company ABB, which specialises in electricity and the industrial sector, demonstrated a system that could recharge an electric bus in 15 seconds as part of a pilot project to improve urban transportation in the city of Geneva. The method consists of applying 400 kW of power to the vehicle while passengers get on and off at any stop on the route so that the bus doesn't waste time refueling.
In the case of the South Korean scientists, the system is based on a porous version of graphene made into dust that makes up the electrodes. Thanks to the introduction of this material, cell properties have improved significantly. Recharging takes just 16 seconds, but researchers have also confirmed that after 10,000 uses, the battery's capacity has not been reduced in the least. The team of scientists says that the new model of graphene battery can store the same amount of energy as an equivalent lithium ion battery.
The introduction of new materials into batteries is one of the paths being followed to improve energy storage systems, from the level of consumer electronics all the way to electric vehicles. Recently, a joint study between the EMPA (Swiss Federal Laboratories for Materials Science and Technology) and ETH (the Swiss Federal Institute of Technology) created tin nano-crystals that can extend the duration of lithium ion batteries, which serve as the base for virtually all current electrical devices.
Images: Eneas and Motor pasión