It's very easy to get lost among the many different components that are required to put together your own computer, but if you're looking for the ideal configuration, you should take advantage of the collaborative knowledge that's available and let the experts guide you
Here at the Think Big blog, we recently talked about the best times to buy a computer, explaining the different measures that could help you find Macs or PCs at a better price, but we didn't get a chance to go into more depth on the subject of computers that users put together themselves.
Because what if you don't want to wait for a pre-made PC? And what if you want to buy today but are uncertain what the optimum configuration is? Well, there are also answers to these questions, or rather, there's a website that will help you to make a decision based on the most up-to-date and optimized components, according to the budget you have.
Logical Increments is a website created by «The Falcon», a Reddit user who in 2010 realised that there were lots of guides for buying medium-high end PCs, but there was no complete and updated guide that kept up with movements in the market, and that when people asked for help in forums, there was a series of components that were repeated constantly as the best options in terms of value for money by expert users advising those who had no idea.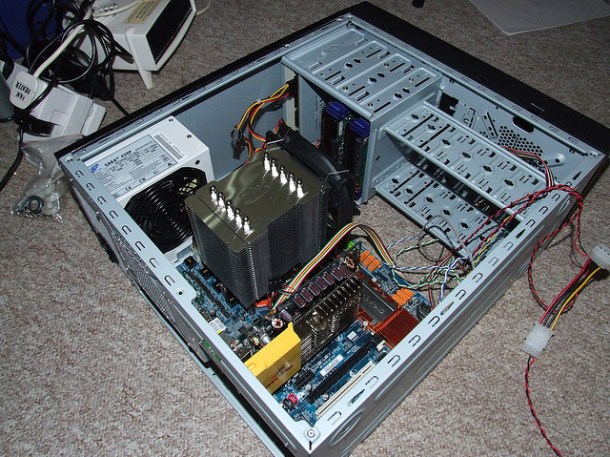 Logical Increments is aimed at gamers who are looking for a computer that can offer the best performance based on their budget, because, although this group of technology consumers is normally the one with the most concerns about the performance of their machines, users who aren't obsessed with squeezing the maximum number of FPS possible out of their graphics will find that their needs are covered by the computers at the bottom of the list.
The way it works is simple. You go to the website, select the country in which you are going to buy the PC, and the web returns a list of computers from €199 for the most basic, to almost €5500 for the "monster" configuration. Each price segment offers different configurations divided by graphics, processor, dissipator for the microprocessor if necessary, motherboard, RAM, magnetic hard disk, SSD, power supply and case.
You can see the explanation for the choice of each one of the components by just hovering the mouse over them and it has a direct link to the online store that sells it at that price in your country. Many countries in Latin America are missing from the list, and they change depending on the collaboration by users, but the list alone serves as a guide to give you an idea how much the system you're thinking of buying will cost in your country.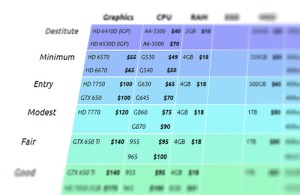 For some users this much information can leave them even more confused than when they started, so the page gives an analysis of what the expectations are for each system. It also clarifies that the best option in terms of value for money is probably somewhere in the Very Good  and Excellent ranges (between €526 and €1000), and that beyond that point, spending more is only worth it if you are planning to use 3D monitors with more than 60Hz (something that only gamers usually demand) or if you're going to have a configuration with multiple screens.
Obviously the website doesn't claim to have all the answers, and you might be more of a fan of certain brands over others, and willing to save or spend more on certain components, but if you're thinking of buying a computer and are feeling a little lost, I certainly recommend that you keep this website handy.
Images Stoic / William Hook