An interesting pocket-sized gadget for enthusiasts of 360º photographs, captures high-quality spherical images in a single shot.
Although there are smartphone applications on the market that make it easy and intuitive to capture 360º images, the post-processing required to overlap the multiple images with the editing software significantly decreases the quality of the result. But enthusiasts of 360º now have it much easier with the launch of Ricoh Theta, a pocket-sized camera that can take 360° photographs in a single shot.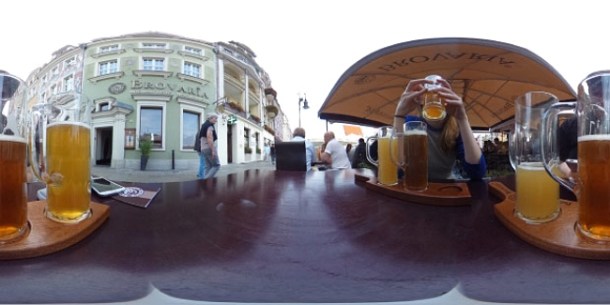 The Theta camera, presented by Ricoh at the IFA 2013, opens a new era in the capture of spherical images in a single shot, using the technology of its two opposing hemispherical lenses. It has a simple, pocket-sized design, with no preview display or manual controls.
In terms of connectivity, Theta has the added advantage that it can save the captured images on its internal memory or can synchronize them directly with a smartphone via Wi-Fi, sending pictures instantly using the free application available for the corresponding operating systems in the virtual stores.
If images are stored on the internal memory, the camera can be connected to a computer with a micro-USB cable, to either transfer the stored photos using the application, or to recharge the battery. The application also includes an editor , which allows images to be rotated and also to edit the size, shape, composition, and color. Images can also be uploaded and shared through the social networks.
The Theta camera is compatible with the iPhone 4S and iPhone 5 with iOS 6 or higher, and also with Android, and the corresponding application is available in the AppleStore and PlayStore. If you are a fan of this type of gadget and you like to capture 360 degree images easily and in a single shot, all you have to do is put down the 399 dollars that it will cost to get your hands on a Theta camera.
Images | via Theta 360º