This application turns your smartphone into the ideal multi-function personal assistant to accompany you on your everyday travels and improve your driving experience.
These days, there are mobile apps for just about every aspect of our lives, but there are certain sectors in which there is still a lot left to explore. I'm referring to driver-assistance technologies that are aimed at improving the experience at the wheel and complementing the set of services offered by current vehicles. Some time ago, we talked about some noteworthy apps like the assistant AXA Drive to improve driving, or the possibility of bringing augmented reality to the windshield of the car from your smartphone, with Hudway. Now we're going to add another interesting application to this list that you can use to turn your smartphone into a smart travel assistant for the car.
Automatic Link is an application that turns your smartphone into a multi-function personal assistant that includes interesting services such as the tracking of fuel consumption, detection of mechanical malfunctions and calculation of highway routes. But not only that, it allows you to geolocate where you parked the car, in case you forget, share the position of the vehicle  with any of your contacts or make automatic emergency calls in case of an accident.
It's easy to use. Just connect the Link, the automatic link accessory, to the car's data port to wirelessly sync the on-board computer with the smartphone's GPS system and data, in order to expand the vehicle's capabilities.
As mentioned before, Automatic Link includes the option of sharing your geolocation data during the trip with anyone you want. For example, this function could allow your family to track your position remotely on long trips, avoiding the need to call every so often to find out where you are.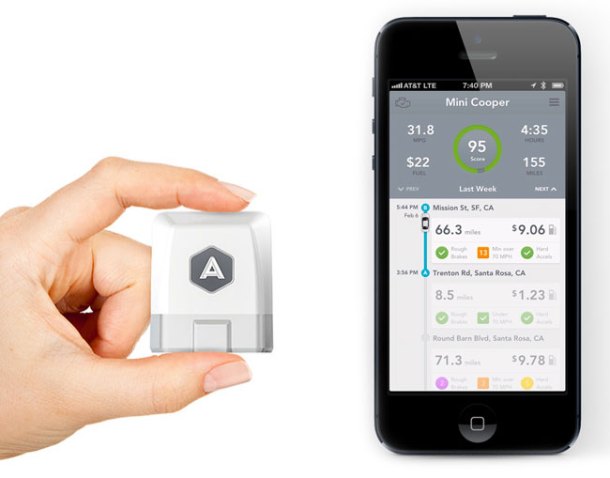 The application includes the possibility of recording all of the activity of your car in a logbook. This feature is designed to improve how you drive, monitoring the condition of the brake pads and fuel consumption, and the amount of pollutants released every time you step on the accelerator or brake. You can also optimise your normal travel routes based on the consumption logs and the car's movements.
This application is compatible with the iPhone and Android, and is one of the most complete in its category on the market. For 99.95 dollars you can turn your mobile terminal into the perfect smart travel assistant. The list of compatible vehicle makes and models is available at the manufacturer's website. The perfect gift for this holiday season, when so many of us travel to be with our loved ones, don't you think?
Images | via manufacturer website