The Neuhardeberg plant generates approximately 19,690,000 kWh/year, enough to supply 48,000 homes and offset the emission of 12,700 tonnes of CO2 to the atmosphere.
Any conversation about solar photovoltaic energy will almost inevitably include mention of one of the most important projects in the world: the solar photovoltaic plant in Neuhardenberg, Germany. Located on the site of the former military airport of Oderbruchstraße, Neuhardenberg is the largest solar photovoltaic project in Germany and is currently one of the largest solar power plants in the world.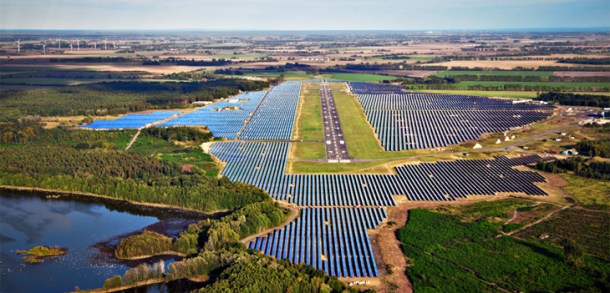 This massive facility is made up of 60,000 Talesun TP660P photovoltaic panels with a maximum power output of 235W-240W and an efficiency of 14.5%-14.8% per module. With an output capacity of 145 MW, this plant can produce approximately 19,690,000 kWh of renewable electricity per year. That's enough to supply 48,000 homes and offset a total of approximately 12,700 tonnes of carbon dioxide emissions each year.
The photovoltaic plant, designed and built by engineering firm BaySolar Projekt, covers approximately 35 hectares and looks like an art installation in the purest tradition of 1970s Land Art, creating a striking vitreous landscape integrated into nature.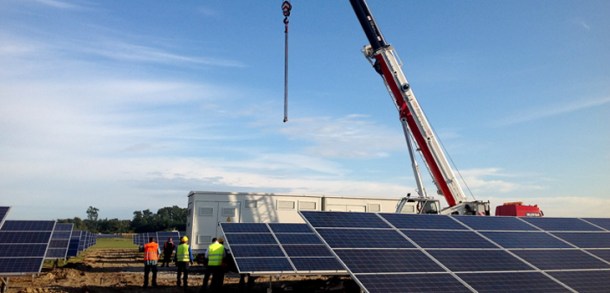 In terms of technical characteristics, the plant uses the Skycontrol PV controller from Skytron Energy. This advanced system controls the adjustment configurations for transferring the power generated by the plant to the grid, and also improves and guarantees the stability of the energy. This technology uses ABB PV800 inverters, 985 Diehl Ako 22000 TL inverters and KACO XP500 inverters, all integrated into a single unified control system to improve the plant's efficiency.
The plant's cascading closed-loop control system was implemented to transfer energy to the grid connection point. This system consists of a primary controller, with four other controllers at 110 and 20 levels depending on it. This means that each controller has an independent closed-circuit control connection with a feedback system. Another innovative aspect of the Neuhardenberg plant is the module structure, which is based on the Sigma II installation system. This system helps reduce the cost and installation time of the structures, which are anchored using 4 micropiles instead of the large beam-type piles that are normally used.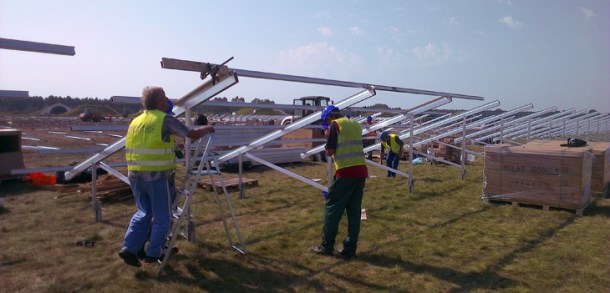 Construction of the Neuhardenberg solar project, promoted by the Danish Airport Development and Solarhybrid, began in September 2012. The project was executed over the course of 5 months, including the construction of the modular supports, the photovoltaic modules, the inverters and the transformer centres. These facilities were supplemented by the construction of the Metzdorf electrical substation located 7 kilometres from the plant.
The construction work was completed on time and the Neuhardenberg plant went into operation in March 2013, transferring all of the generated power to the EON edis Network power grid.
Images | via bayenergy