If you're planning on changing your smartphone in the near future and are interested in knowing what Firefox OS is like, you're in luck: you can try out all the operating system's features on your PC.
The new ZTE Open is now on sale. But for those not looking to renew their smartphone or who do not have one to hand, Mozilla has created a simulator that runs through your browser to test Firefox OS. The user accesses the platform's home screen and can start to navigate, imitating the movements of a touch screen. The topic search option, which recognizes the intent of queries, is one of the operating system's most interesting features.
Firefox OS has aroused great interest and even outright burning curiosity among techies. The ZTE Open, the first commercial smartphone to be sold using the platform, has recently gone on sale. Gradually the operating system is on its way to the public. To reach a wider audience, some time ago Mozilla released a simulator that ran on the Firefox browser. Now this tool has been updated and is a practical way to test the platform.
The simulator is available for Windows, Mac and Linux. It must be installed as a Firefox add-on, so it is not supported by any other browser. Below, we explain some of the features that the operating system has to offer.
The basic functions
When installing the Firefox OS simulator we found that the primary interface is simple. Only the clock widget is displayed, with a row of icons at the bottom. These provide access to the terminal's basic functions, such as calls, messages, calendar, contacts and browser. Below them are tiny icons representing the physical smartphone buttons; the most important being the one that returns the user to the main screen, no matter where they are.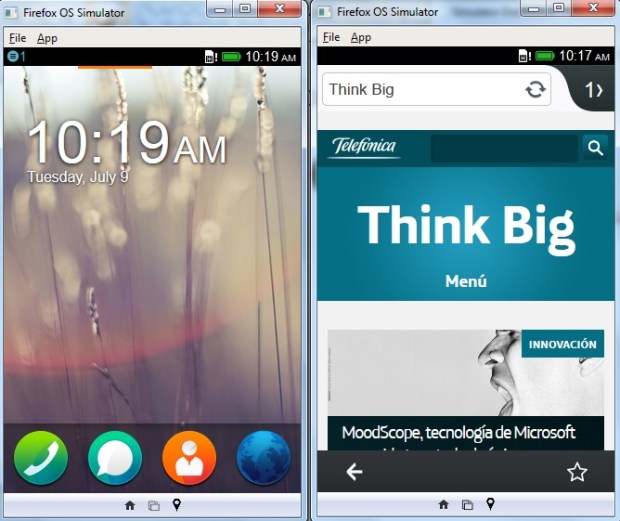 From this first interface the screen slides to the left to display screens with applications organized in a grid. Needless to say, all these icons provide access to a web application. The Software is based on HTML 5, which is very agile. However, because it is a simulation, some programs cannot perform all their functions. You can try some games, visit web pages and check out the adaptation, but other services will tell you that your browser does not support the functionality required.
Notifications centre
Notifications work in a similar way as they do on Android. They appear at the top of the screen and are displayed by dragging downwards. This centre is where wireless connections are controlled and aeroplane mode can be activated instantly. Another section leads to the 'settings'. This displays a concise list of the system's functionalities, each one being modifiable.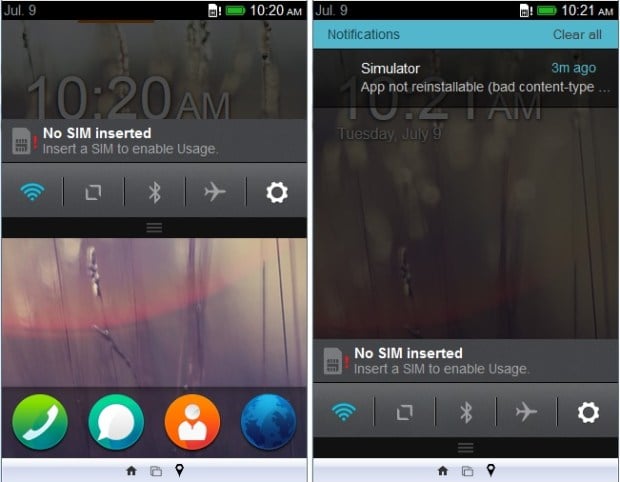 Applications
In the console that opens up in the browser, you can add URLs or directories to see how they would look and behave in Firefox OS. Just type the address of a website and it is added as a web application in the system matrix. A developer can also take the content they have stored locally and upload the entire folder to see if their software is deployed correctly on the platform.
The simulator shows any errors with the uploaded content and offers recommendations for adapting the application to Marketplace requirements. In addition, any site that is accessed can be added to bookmarks and the user will have direct access to it. The system browser contains an extremely simple «settings» section. From there the user can clear their browsing history, delete cookies and nothing else.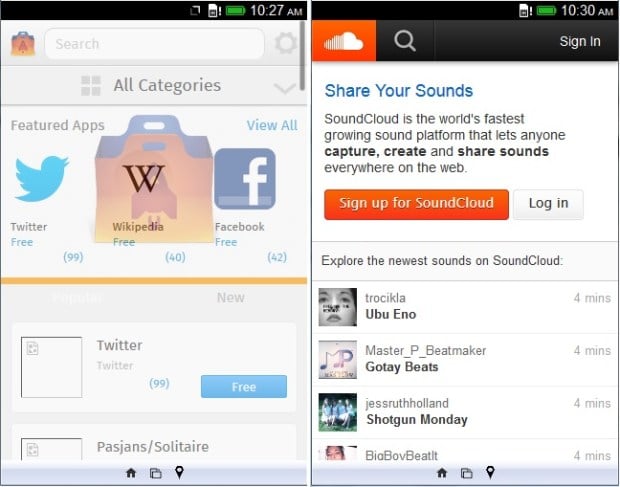 The simulator provides access to Firefox Marketplace, where you can install the applications available in this space. It allows you to search, browse and view information, along with each app's permissions.
Smart searching by category
Sliding the main screen to the right shows the categories and a search box. Several categories are deployed and each offers vertical content such as music, games or news.
Each category is a topic box. In Movies, for example, there are applications to query film synopses and details, such as IMDb or Filmaffinity, but also others to buy tickets, see what's on, rent films online or watch trailers. Firefox OS provides an even more tangential option, such as The Hollywood Reporter, which gives news about films.
The same goes for the Social category. Within this category you can find anything from Facebook and Twitter or Google + to Quora, WordPress, airbnb, Flickr, Tumblr, Pinterest and YouTube. However, some applications fall within several categories. YouTube, because of its transversal nature, is also present in Music.
And speaking of music, let's search for a song. Not on the web, but in this Firefox OS topic section. Searching for The Beatles 'Come Together' we see all the places where it may appear. The search system can detect that we are referring to the song and recommends a number of applications: YouTube or Grooveshark (because it interprets that our most logical desire would be to listen to it). But when this is not so, it also suggests Metro Lyrics, in case we want to read the lyrics or sing while listening. If what we had in mind was to look for and send the link to a friend, Facebook and Twitter are available to do so. If you just want information about how it was created and what surrounds it Wikipedia and Google also appear at the top.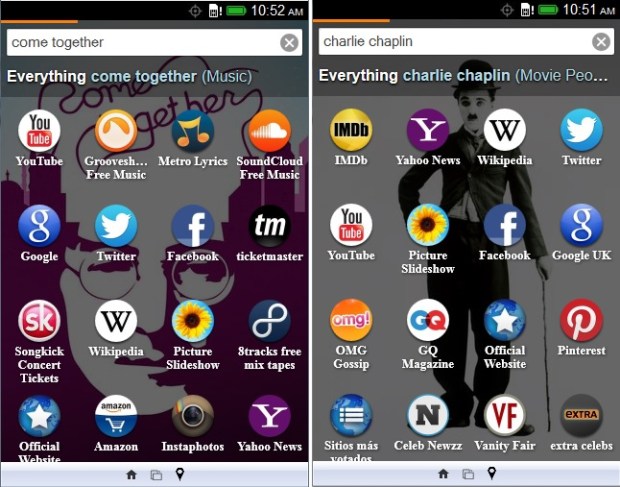 As a curiosity, but without making it look funny, we can just make out John Lennon's profile as the search background. Similarly, if we search for a celebrity like Charlie Chaplin, his photo will be shown in the background. In this case, IMDb, Wikipedia and YouTube are interpreted as the best options to suit our interests, along with Yahoo News and social networks.
This search is instantaneous so that, as we write, the applications shown and the background change. If a concept is not clear, Firefox OS shows a series of apps, but asks the user which category they were referring to specifically and then makes a more precise search.
Image:  w.szczesny