Programming knowledge is not essential for creating your own mobile applications. Here's how to do it.
The unstoppable expansion of smartphones has created a panorama of unprecedented opportunity for the mobile applications market. This has been a real boost for developers and companies that have seen in this field a niche business for creating successful applications, free or paid, using very few resources. Competing in this emerging market is not an easy task and requires programming skills. Yet, just because it is complex does not mean it is impossible. In fact programming skills are not essential for creating your own applications. In Think Big we are going to explain the different tools available for creating mobile apps for different platforms existing on the market, with no prior programming knowledge.
There are already several services on the market that enable you to create applications from scratch and step by step for different mobile platforms, using editing wizards to customize the interface design and configure basic application functions. Once our creation is finished, the same wizards handle the compiling of our project in a native application for the chosen platform, eventually guiding us through the process of publishing it in the app store. I'll now give details on the existing mobile application generators and the possibilities offered by each one.
Creapp
Creapp may be one of the easier to use mobile application creation wizards. It also has a powerful visual editor that lets you create and configure different types of applications in just 5 steps, requiring no programming skills.
Creapp provides a good catalogue of predesigned templates to help newcomers to this interesting field to create our first application. Starting from the chosen template, the service allows us to customize it to match the graphics and appearance to our corporate image. Furthermore, Creapp allows the possibility of adding attractive features to our project, such as online ordering systems, payment gateways for online shops and other useful services for medium and small businesses. The only step that remains is to export our project to the different existing platforms, like Android, iOS and HTML5.
Creapp's service has a personalized plan of € 19 per month for HTML5 applications and a much more comprehensive plan costing € 59 per month for applications compatible with all three platforms.
Apps Builder
Apps Builder is another appealing tool to quickly and easily design and publish your own mobile applications with zero programming knowledge. The difference between this service and other wizards is that its editor can capture the contents of our website to use as a foundation on which to develop applications for different mobile operating systems.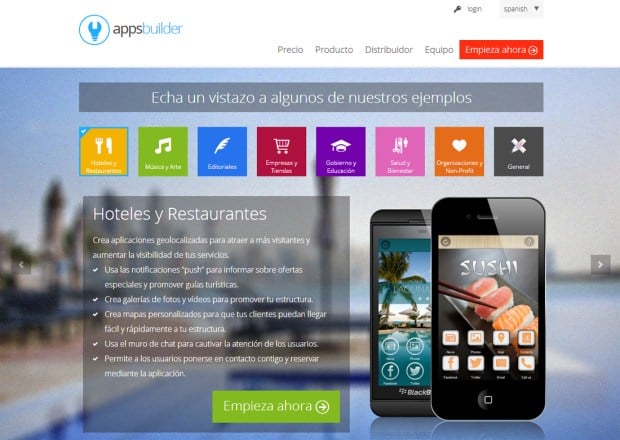 It also has a gallery of 37 templates available for the application interface design, plus the ability to set up the characteristics of your application step by step, and without touching a single line of code, by adding modules such as: News, Photo, Video, Podcasting, Store, RSS Feed, Facebook, Twitter, Website, Radio, PDF, Text, Code, Chat Wall, Contacts, Maps, Text Messaging, Call and E-mail.
This service offers the ability to create applications with different degrees of complexity thanks to its modular configuration, which can be modified even after its publication. We can create everything from an official application with updates to our personal blog to a graphic portfolio with our latest work and then export it to the different available platforms: HTML5, iOS, Android, Windows Phone or Windows 8.
Apps Builder allows you to test the service free of charge for 30 days. If you want to publish one or more applications, there is a premium plan ranging from  € 15 euros to € 149, depending on the services hired.
Mobincube App Builder
Perhaps the Mobincube App Builder is one of the most comprehensive cross-platform mobile application generators, given the degree of customization it allows. It offers a full step by step assistance service for newbies in the field of programming, with an excellent gallery of predesigned templates for a variety of content.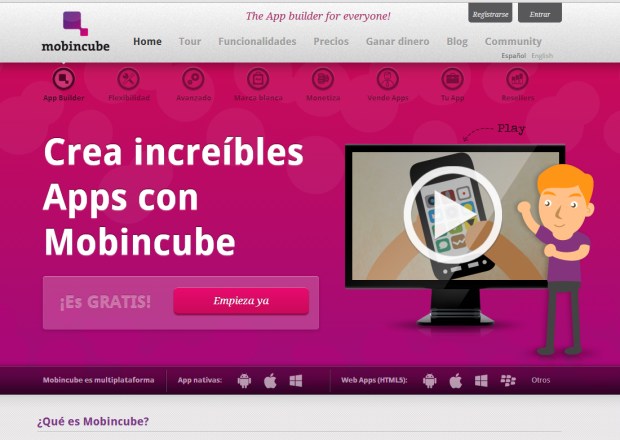 The graphical and user interface provides much more freedom in choosing our application's corporate image. In terms of adding features to the application, it is quite intuitive and practical and offers the ability to export your project to major mobile platforms such as iOS, Android, HTML5, BlackBerry or Windows Phone.
Mobincube App Generator Service offers a personalized plan that varies depending on the features you want to add to the application. It also has interesting monetization service that allows us to easily manage the incorporation of advertisements into the application to make some money.
BlackBerry App Generator
To conclude this review of the different mobile application generators available, we might highlight the BlackBerry platform's service for easily and intuitively creating Apps. Like the other services, BlackBerry App Generator lets you create applications for different versions of the BlackBerry operating system without any knowledge of programming.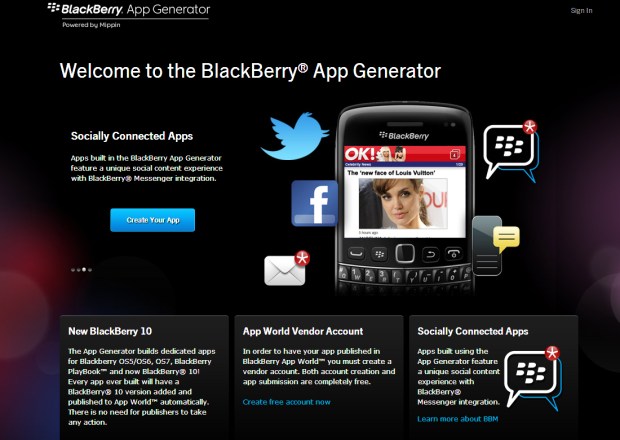 This attractive tool for BlackBerry users focuses on content creators because it uses the RSS feed from our website to automatically generate the application. Once the information has been captured, all that is left is to customize the interface to our preferences, including icons, banners and other elements. Although the application's limited visual and graphic editing capabilities result in a fairly standard image, it allows anyone without any programming knowledge to create a proper application for their BlackBerry completely free of charge.
So, now you know, if you've been mulling over a novel application and have no programming knowledge, now is your chance. What are you waiting for?
Image via Jacob Botter (Flickr)